Recently, I have developed a tool named MetaLogo, aimed to make sequence logos for multiple sets of sequences with different lengths or other characteristics.

We all know WebLogo could make sequence logos, however, together with other sequence logo generators, these tools can only accept sequences with equal lengths. Although a multiple sequence alignment (MSA) seems to be a solution, but that's not perfect at all. We just sometimes need to discriminate the length of sequences. For example ,when we analyze immune repertoire, we definitely know that a 14-bp CDR3 and a 30-bp CDR3 could totally target to different antigens and a MSA helps nothing. We need to divide the sequences into different groups by their lengths. Then we need a tool to draw sequence logos for each group and put them together in one figure. If the tool could make some alignment and padding for these sequence logos to highlight the similarities or differences among different group of sequences, that would be perfect!
Therefore, we developed MetaLogo!
You can directly input your sequence file with thousands of sequences of different lengths and make your aligned multiple sequence logos. You can also group your sequences by other criterion besides lengths.
What's more, MetaLogo could make beautiful and highly customizable sequence logos. You can visit the public web server of it (http://metalogo.omicsnet.org), or you can install the python package (pip install MetaLogo). You can even easily build your own web server in your local network. A temp development server and a efficient production docker server are both available.
That's amazing. Just try it. Here is the tutorial: https://github.com/labomics/MetaLogo/wiki and here is the webserver (http://metalogo.omicsnet.org).
If you have any question, please leave a message here, or create a issue on github, you can also send me emails (find address in the MetaLogo webserver).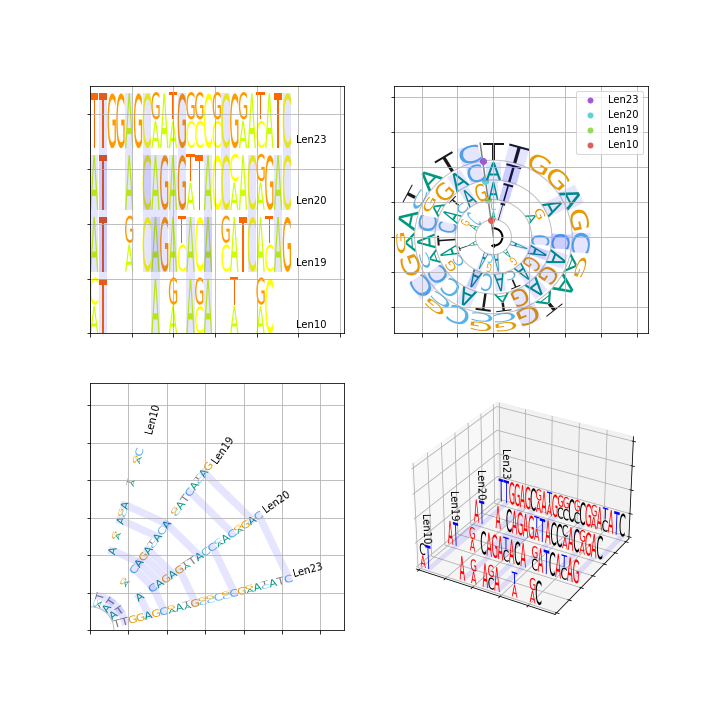 Thanks.